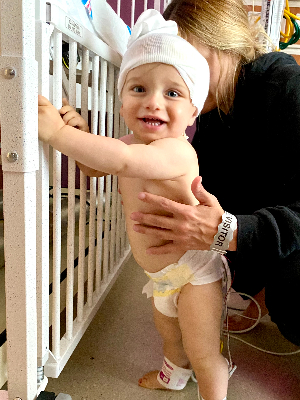 When our smiley 14-month-old son Kosta began vomiting unexpectedly, we were of course concerned but we also didn't want to overreact. We took Kosta to a pediatrician who, based on his symptoms, understandably diagnosed him with a stomach bug. We picked up the usual medications and headed home, expecting to see Kosta bounce back to his normal self.
Unfortunately, Kosta's symptoms worsened the following day. Instinctively, we headed to Advocate Lutheran's Pediatric ER in Park Ridge, IL. After a quick examination and a few questions, the ER team ordered a CAT scan, ostensibly just to rule out anything extreme.
No less than 30 minutes after walking in, our son was diagnosed with a brain tumor. Lauren and I were stunned... terrified... numb.
Thankfully, the exceptional pediatric ER staff had caught and properly diagnosed Kosta's condition right away. We were transferred to Pediatric Intensive Care and as we walked through those doors, a harsh reality settled in: This was not some bad dream. This was real. Our baby boy's future hung in the balance.

We were immediately introduced to one of the pediatric neurosurgeons, Dr. Bryan Bertoglio. He let us know surgery was already scheduled the following day and that he would be pairing with Dr. John Ruge to remove a tangerine-sized brain tumor blocking his left ventricle that produces spinal fluid.

Kosta's brain surgery went as planned. Post-op MRI results thankfully indicated that the team was able to fully remove the brain tumor. We exhaled, if only for a moment, and began to reflect on our good fortune.

Dr. Ruge and his team were simply extraordinary. Communication amongst the Child Life Team, the PICU Nurses, and PICU Doctors was flawless. Throughout our ordeal, though seemingly unbearable at times, Lauren and I felt we were cared for like family.

Biopsy results came back benign. We were cleared to go home well ahead of plan.
The truth is, we were very fortunate... under very unfortunate circumstances. We are so thankful for the support of amazing family and friends. We are so thankful to the world-class medical team led by Dr. Ruge. We are unbelievably thankful that our little guy is healing so quickly, bringing smiles and joy to everyone he meets.

We learned during recovery that we can increase how many young families might be as fortunate as ours.

An even better medical advantage already exists -- one that hasn't been approved yet by the FDA for pediatric neurosurgery. It's a medication that visually differentiates tumorous cells from healthy ones under fluorescents, dramatically improving outcomes in situations just like ours. It's proven in adults and this study hopes to prove the same benefit in children.
Given our good fortune, Lauren and I are committed to helping talented surgeons like ours leverage every advantage possible. We've already donated what we can and ask that you might help too.

Let's reach this funding goal together. Let's put this study in motion and clear a revolutionary technique for common medical use with more smiling babies just like Kosta.

View More